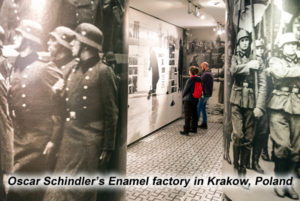 The American Renewal Project initiated and produced Mike Huckabee's Reagan, Thatcher, and Pope John Paul II Tour with Evangelical leaders from Iowa, New Hampshire, South Carolina, & Nevada in November 2014. The trip was one of the highlights of a lifetime. (view itinerary here)
We began in Krakow, Poland, where Cardinal Karol Wojtyla began his march toward Rome, and thereupon became Pope John Paul II. Schindler's Factory is located in Krakow and nearby is the infamous Auschwitz-Birkenau.
When Karol Wojtyla stepped out on the Vatican balcony on October 16, 1978, as Pope John Paul II, the person preaching in his home pulpit back in Krakow was none other than evangelist Billy Graham. Besides Mr. Graham, Cardinal Wojtyla had established solid relationships with many prominent Evangelical leaders in America. Christianity Today wrote:
"In the mid-1970s, American mission organizations like the Billy Graham Evangelistic Association began taking the gospel behind the Iron Curtain to Eastern Europe. After Graham's first 'communist' crusade in Hungary in 1977, he was invited to the predominately Catholic country of Poland by the tiny Protestant community there, which amounted to less than 1% of the population. Graham's desire was to work with as many Catholics as possible.
"Initially, the Polish Catholic church rebuffed him. Wojtyla was the exception, giving Graham the invitation he needed for his crusade in a country where evangelicalism was considered cultic. Cardinal Wojtyla was already overseeing a radical partnership between a Polish Catholic youth renewal movement popularly known as Oasis and the American evangelical ministry Campus Crusade for Christ.
"Oasis founder and close Wojtyla friend Father Franciszek Blachnicki had a conversion experience in a Nazi prison and built the Oasis movement to help Polish youth living under communism discover the same living faith he had found. At the heart of Oasis were its annual youth retreats in the Polish mountains using the outdoor experiences of scouting – bonfires, hiking, singing – as spiritual renewal exercises structured around the mysteries of the rosary.
"Wojtyla saw the power of Oasis for renewing the church through spiritual mobilization in its fight against communism. Oasis alumni took vows to live ethical lifestyles of spiritual dissent in the face of a hostile communist system. By December 1983 more than 300,000 Poles had graduated the Oasis experience, including 40% of all new priests.
"In January 1978 Blachnicki came to America to visit Bill Bright at Campus Crusade's headquarters in Arrowhead Springs, California. Bright probed Blachnicki about the usual evangelical concerns: 'I asked him,' Bright remembered, 'What about the Virgin Mary? What about praying to the saints? … He gave me answers that for one with my background were satisfying and amazing.'
"Except for a 'few fine points,' Bright concluded, 'there was basically no difference between what he believed and what I believed.'" (www.christianitytoday.com/ct/2005/may/13.34.html)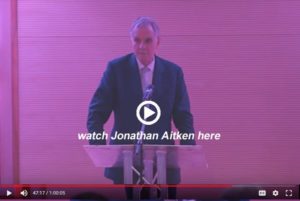 If America is to be resurrected, Christians are going to have to take a page from Karol Wojtyla and Franciszek Blachnicki on making disciples. Guided by their initiatives, we could begin to address the issue of America being a place where God is barred from public schools, whereas sex and aberrant sexual practices are promoted.

After a few days in Krakow, our group of pastors and Evangelical leaders from IA, NH, SC and NV traveled to London and visited the Churchill War Rooms. Jonathan Aitken (1) was our dinner guest speaker. (watch video here)

Mr. Aitken is a former Conservative Member of Parliament in the United Kingdom (1974–97), and a former Cabinet minister. He "had one of the most high profile and colorful careers in British public life. His career has spanned the worlds of books, newspapers, television, business, politics, theology, charitable service, prison reform, and offender rehabilitation." (www.jonathanaitken.org)

In a sense Jonathan Aitken is the Chuck Colson of England. He was convicted of perjury in 1999 and received an 18-month prison sentence. He served seven months and found Christ. Actually Christ found him. Mr. Aitken's turn in life reinforces the fact that the key to social renewal in America is individual regeneration.

America's Christendom must return to the fundamentals. To the Southern Baptist Convention meeting in Dallas this week, America desperately needs your footprint in the public square.​ We again quote A.W. Pink, "Nowhere in the Epistles is there a single exhortation for the saints as such to engage in public evangelism, nor even to do 'personal work' and seek to be 'soul winners'. Rather are they required to 'witness for Christ' by their daily conduct in business and in the home. They are to 'show forth' God's praises, rather than tell them forth. They are to let their light shine. The testimony of the life is far more effectual than glib utterances of the lips. Actions speak louder than words." 

Although slow to the draw, the great news is that Gideons and Rahabs are beginning to stand as they enter the public square to "war against the world, the flesh and the devil."(2) A spiritual resurrection is coming to America.

David Lane

(1) Jonathan Aitken has written several biographies of political figures:

• Richard Nixon, President of the United States – Nixon: A Life, 1996.

• Chuck Colson, Nixon's co-conspirator in the Watergate scandal – A Life Redeemed, 2005. Colson had assisted Aitken in his biography of Nixon, and had later corresponded with Aitken urging him to repent in the wake of the Guardian libel case.

• Nursultan Nazarbayev, President of Kazakhstan – Nazarbayev and the Making of Kazakhstan: From Communism to Capitalism, 2009.

• Margaret Thatcher, Prime Minister of the United Kingdom – Margaret Thatcher: Power and Personality, 2013.

(2) A.W. Pink, Gleanings From Joshua, "Every believer has been 'perfected forever' (Hebrews 10:14), yet confesses that he is not already perfect (Philippians 3:11). The one refers to what they are in Christ, the other to what they are in themselves. Unless the Christian reader learns to draw that distinction, much in the epistles will seem almost a meaningless jumble; if not a series of contradictions. There is a tremendous difference between how the believer appears in the sight of God, and how he looks in his own eyes and those of his fellows. He stands before God in the infinite value of Christ's righteousness, while in his actual experience he is warring against the world, the flesh and the devil, and is often worsted by them."