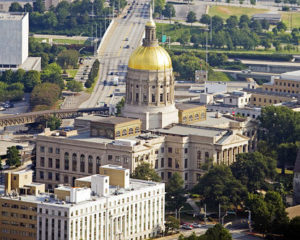 For evangelical voters, it wasn't supposed to be this way. Not in Georgia, at least.
When Russell Moore, president of the Ethics & Religious Liberty Commission, the policy arm of the Southern Baptist Convention, first heard that Governor Nathan Deal had vetoed a controversial religious-liberty bill, his phone exploded with text messages. HB-757 was seen by many as a modest attempt to safeguard religious freedoms, stating, for example, that pastors could not be forced to perform same-sex weddings. Naturally, faith leaders across the state were furious, and Moore quickly became a sounding board.
"I've heard from the most apolitical pastors one can imagine who are shocked and disgusted. There's a great deal of anger," Moore says. "I don't know that Nathan Deal will ever run for anything in Georgia again, but he would sure have a hard time if he did."
One week after Deal's veto, which came on Easter Monday, evangelical leaders, lawmakers, and activists across the state are still livid and threatening to make the governor pay. But for all their bluster, social conservatives may not have the political power they once did, even in a Bible-belt stronghold such as Georgia.
Deal's veto may turn out to be the moment when long-standing tensions between the business and evangelical wings of the Republican party exploded here, and when the former definitively vanquished the latter…
Read full story:  http://www.nationalreview.com/article/433600/georgia-religious-liberty-bill-business-interests-beat-christian-right