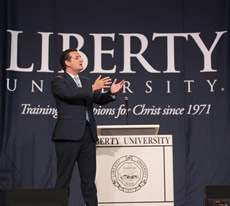 Sen. Ted Cruz (R-Texas) encouraged Christian college students at Liberty University's Convocation Wednesday to stand up for what they believe and defend their religious freedom against current assaults.
"I'm here today, more than anything, to encourage you," he told the approximately 10,000 students in attendance. "To encourage you in your faith, to encourage you in your freedom, to encourage you in standing up for the principles that define you."
According to Liberty University, located in Lynchburg, Va., the school's convocation is the largest weekly gathering of young Christians. Cruz's father, Raphael Cruz, spoke at one of the convocations in November.
"Faith and freedom are intertwined," Cruz said, and religious liberty "has never been more imperiled than it is right now."
Full story: http://www.christianpost.com/news/ted-cruz-to-liberty-u-students-defend-your-religious-freedom-117292/