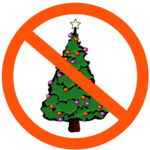 An elementary school in Frisco, Texas is believed to be the first in the state to violate "The Merry Christmas Law" after they banned Christmas trees and the colors red & green from an upcoming "winter" party.
Boys and girls who attend the Nichols Elementary School "Winter Party" will not be able to make any reference to Christmas or any other religious holiday. Christmas trees are also banned – along with the colors red and green.
The rules were sent to parents in an email from the school's PTA and first reported on by MyFoxDFW.com
.
Full story:  http://www.foxnews.com/opinion/2013/12/05/school-bans-christmas-trees-colors-red-green/?intcmp=obinsite