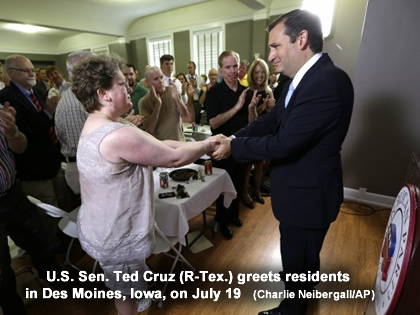 "The group is the brainchild of David Lane, a California Christian organizer"
Two outspoken Republican senators and the chairman of their party traveled to Des Moines on Friday to speak to evangelical pastors in an effort to reignite enthusiasm for the conservative cause.
Sens. Ted Cruz (Tex.) and Rand Paul (Ky.), both mentioned as possible presidential candidates, were the key speakers at a meeting of 400 Iowa ministers and their spouses. The senators also attended an Iowa Republican Party fundraiser.
Cruz drew a strong response Friday from the religious leaders with an emotional appeal to Christians "to hold party leaders accountable" and to engage politically. Paul issued a similar call to action in a more low-key address to the Iowa Renewal Project, the state chapter of a national organization that is likely to begin similar operations soon in other states…
Read full article here: