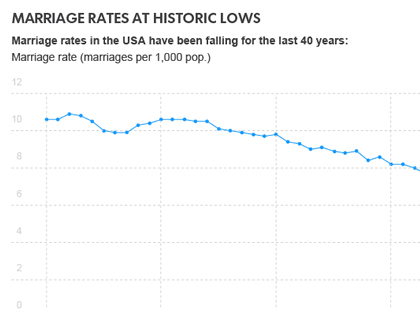 The marriage rate is at its lowest point in more than a century, and the number of marriages across the USA fell more than 5% during the recession. But a new analysis projects that pent-up demand and the large population of marriage-eligible Millennials, ages 18-34, means more will be headed to the altar over the next two years.
Cultural changes about whether and when to marry, the fact that two-thirds of first marriages are preceded by cohabitation and the recession's financial fallout — including unemployment and underemployment — fueled the wedding decline. Projections from the private company Demographic Intelligence of Charlottesville, Va., says the signs are right for a temporary boost in weddings.
The company projects a 4% increase in the number of weddings since 2009, reaching 2.168 million this year; 2.189 million in 2014. Depending on the economic recovery, the report projects a continuing increase to 2.208 million in 2015.
Read the full story at:  http://www.usatoday.com/story/news/nation/2013/06/17/marriage-trends-demographics/2424641/