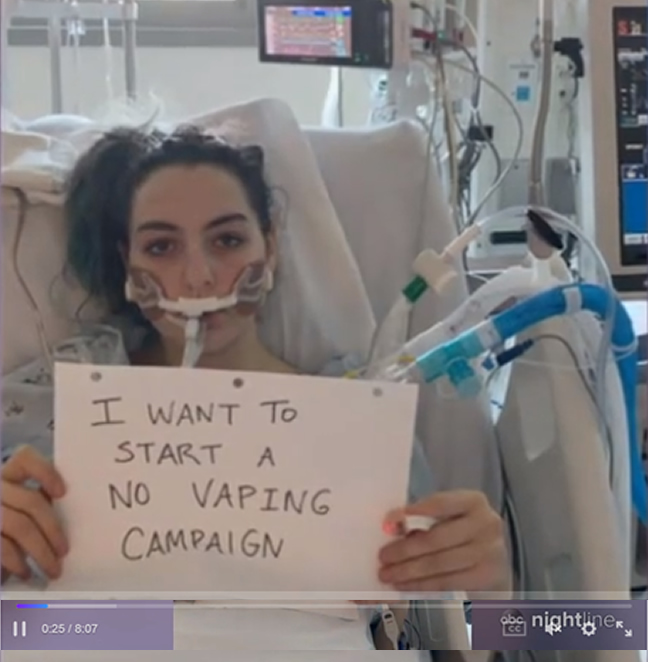 Teen who was put on life-support for vaping says 'I didn't think of myself as a smoker' originally appeared on abcnews.go.com
Though she might not look like it today, Simah Herman said she was sure she was going to die last month as she sat in the car unable to breathe, her father racing her to the hospital.
"I just remember feeling like absolute…nothing. Like I just couldn't do anything," Herman, 18, said. "I couldn't drink water. I couldn't move. Like, I literally just wanted to crawl out of my skin."
The doctors looking after Herman at Los Angeles' Ronald Reagan UCLA Medical Center were also stumped. On that day, Aug. 15, a chest X-ray showed white hazy areas at the bottom of her lungs, which her pulmonologist, Dr. Kathryn Melamed, said could potentially be pneumonia. Less than 48 hours later, chest X-rays showed that her lungs were filled with white — they were inflamed and full of fluid, Melamed said.
"My best guess since we're still learning about what is really going on in the lungs is [it's a] profound inflammatory reaction to the vape products or some…component of the vape products," Melamed told ABC News' Adrienne Bankert for "Nightline."
(MORE: 4th vaping-related death reported, CDC vows to find out 'what is making people sick')
Full article: http://www.dailymail.co.uk/health/article-2377581/Teenagers-smoke-cannabis-damage-brains-LIFE-likely-develop-schizophrenia.html