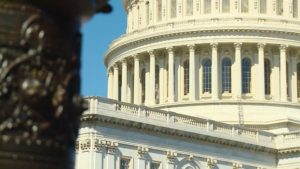 WASHINGTON – In a stunning upset, Mark Harris defeated Rep. Robert Pittenger Tuesday night in North Carolina's 9th District primary.
Harris, a former pastor of a mega-church in Charlotte, is one of many candidates across the country with a ministerial background.
One of his staunchest supporters is David Lane, founder of the American Renewal Project, an organization that aims to encourage and equip pastors to run for office with the goal of affecting the culture.
Related
For Such a Time as This? Hundreds of Pastors Seek Political Offices
Why Americans Need to Know the Faith of Presidential Candidates
Lane tells CBN News his organization doesn't keep track of individual races but knows of at least 300 pastors running at the local level.
"A grassroots, precinct-level explosion is occurring across the country by evangelical and pro-life Catholic Christians," Lane said….
Full story here:
http://www1.cbn.com/cbnnews/politics/2018/may/pastor-unseats-sitting-us-congressman-could-this-be-a-new-trend