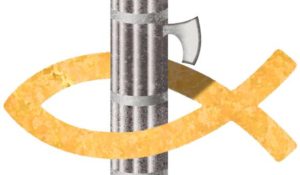 ANALYSIS/OPINION:
It's morning in America, and a look back on the week's news proves it is open season on Christians and the U.S. Constitution.
In the Big Apple, the New Yorker magazine carried this headline: "Chick-fil-A's Creepy Infiltration of New York City" and then proceeded to opine that the fast-food chain's arrival in NYC "feels like an infiltration, in no small part because of its pervasive Christian traditionalism."
To drive home its point, the magazine cites the shocking fact that Chick-fil-A's "headquarters, in Atlanta, is adorned with Bible verses."
Even worse, "its stores close on Sundays." And — scandal of all scandals — the restaurant's founder, S. Truett Cathy, actually believed in what the New Yorker apparently finds incomprehensible: The 2,000-year-old teachings of Western civilization and of the Christian faith that the sacramental union of one man and one woman, hitherto known as marriage, should be defined by the church and not co-opted by the state.
In our nation's capital, Sen. Cory Booker made it clear this past week in his position as Grand Inquisitor, that Mike Pompeo is not fit for the office of secretary of State (or any other office for that matter) because Mr. Pompeo actually believes in the appallingly unjust and bigoted moral views of Jesus Christ.
In California, we were all delighted to learned that the reports of George Orwell's death were premature and, that at the age of 114, he has just authored another seminal work. California Assembly Bill 2756 is his new tome, and it is bound to be a definitive classic for it actually surpasses the prophetic insight of "1984" and moves from fiction to reality.
Assembly Bill 2756 actually requires California fire marshals to enter into the privately held houses and apartments of all homeschooling families at least once a year to perform "in-home inspections."
 The reason? Well, it's obvious that homeschool parents, who happen to be disproportionally conservative and Christian, and who choose to sacrifice time, money and careers to stay at home and do the hard work of raising and educating their children, are much more prone to burning down their places of residence than the general population of Los Angeles, San Diego, Fresno and Santa Barbara.
Also, from the Pacific bluffs of Oceana, we learned this week of two additional laws being promoted by the state's Ministry of Truth: laws that purportedly protect intellectual freedom under the banner of ideological fascism; laws demanding "tolerance" of all ideas but those deemed intolerable.
First, Assembly Bill 2926 is one that empowers the government to form an "instruction committee" to immediately begin investigating all homeschool operations within California so that information can be passed along to the sages in Sacramento to decide how to best regulate all the foolish and backward homeschool types who are producing students with much higher test scores than nearly all their peers being indoctrinated in the "superior" schools run by the government.
And, not to be outdone in the Aldous Huxley and Ray Bradbury look-alike contest, the authors of Assembly Bill 2943 just declared this week it is "unlawful" for anyone residing within California's borders (but wait, California doesn't believe in borders) to participate in any "transaction that results in a sale or lease of goods or services" to any consumer that involves a discussion of "sexual orientation change efforts "
And how does our Big Brother on the West Coast define "sexual orientation change?" The language of the bill is clear: "Any efforts to change behaviors [pertaining to] sexual or romantic attractions or feelings " And thus, it will become illegal in the land that fancies itself as the "birthplace of the free speech movement" to engage in any speech, i.e. to sell a book, that advocates for moral responsibility and sexual restraint. Can you spell banning Bibles?
If this doesn't bother you, I would suggest you've been spending too much time at Starbucks rather than reading Santayana.
Ignorance of history does guarantee that it will repeat itself, and there is a reason why.
A brief walk down memory lane never hurts. A paraphrase of Martin Niemoller might serve well here:
"First they came for Chick-fil-A and I did not speak out because I wasn't Chick-fil-A. Then they came for Mike Pompeo and I did not speak out because I wasn't Mike Pompeo. Then they came for homeschoolers and I did not speak out because I wasn't a homeschooler Then they came from Californians and I did not speak out because I wasn't a Californian Then they came for me and there was no one left to speak."
Full article: https://m.washingtontimes.com/news/2018/apr/22/open-season-on-christianity-and-the-constitution/?__twitter_impression=true