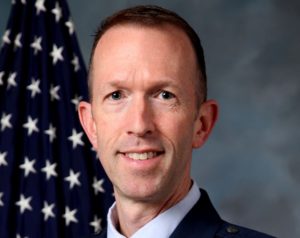 The Air Force has affirmed the religious rights of a colonel who claimed he was wrongly disciplined for refusing to sign a certificate of appreciation for the same-sex spouse of one of his airmen last year.
The Air Force said that Col. Leland Bohannon "had the right to exercise his sincerely held religious beliefs and did not unlawfully discriminate when he declined to sign the certificate," according to a letter sent Monday by Air Force Secretary Heather Wilson to members of Congress who supported Bohannon.
"The Air Force has a duty to treat people fairly and without discrimination on the basis of race, color, sex, national origin, or sexual orientation and (Bohannon) met that duty by having a more senior officer sign the certificate," Wilson said.
First Liberty Institute, the religious liberties group representing Bohannon, announced the decision Monday on its website, posting the letter from Wilson to Rep. Vicky Hartzler, R-Mo.
Rep. Doug Lamborn, R-Colo., posted a similar letter he received from Wilson on his Twitter account.
The Air Force Review Boards Agency granted Bohannon's appeal, Wilson said in her letter, noting his records would be corrected.
"The Air Force places a high value on the rights of its members to observe the tenets of their respective religions or to observe no religion at all," Wilson said.
A 1994 Air Force Academy graduate and decorated combat pilot, Bohannon had been stripped of command of the Air Force Inspection Agency at Kirtland Air Force Base, N.M., and removed from consideration for a promotion to brigadier general after the Air Force found that his actions violated service regulations.
In May, Bohannon was asked to sign a certificate for a retiring master sergeant in his command, including a "certificate of spouse appreciation," according to the appeal letter First Liberty Institute sent to the Air Force on behalf of Bohannon.
While Bohannon readily signed each document for the retiring airman, he chose not to sign the "optional, unofficial" spouse appreciation certificate "similar to a bouquet of flowers," the appeal letter said. The colonel believed that doing so would "signify his personal endorsement of the same-sex marriage," which conflicted with his religious beliefs, First Liberty said.
Bohannon sought a religious accommodation that would excuse him from signing the letter, the institute said. That request was later returned "without action." In the meantime, however, a two-star general agreed to sign the letter in Bohannon's place.
When the retiring master sergeant found out that Bohannon did not personally sign the spouse certificate, he filed an Equal Opportunity complaint, alleging the colonel unlawfully discriminated against him on the basis of his sexual orientation.
The Air Force substantiated the airman's allegations, and Bohannon was subsequently removed from command and for consideration for promotion. He appealed the decision in October.
First Liberty argued in the appeal that under Air Force regulations, there is no legal right to a spouse certificate of appreciation and that the master sergeant wasn't the subject of any alleged discrimination. The organization also cited Defense Department guidance, which says that military departments "will accommodate individual expressions of sincerely held religious beliefs" of servicemembers unless doing so could adversely affect military readiness, unit cohesion, and good order and discipline.
But the founder and president of the Military Religious Freedom Foundation, an advocacy group dedicated to upholding servicemembers' Constitutional right of religious freedom, condemned the Air Force decision for siding with "prejudice and bigotry."
"This is a poisonous distortion of the basic civil rights of members of the U.S. military," Mikey Weinstein said Tuesday, noting the Supreme Court has legalized gay marriage.
Weinstein said there is fear among the group's more than 1,000 LBGQT members that the decision might open "a Pandora's box" of civil rights' violations. If a certificate of appreciation could trigger Bohannon's "sincerely held religious beliefs, it's terrifying to imagine how far this will go," he said.
What if a commander didn't agree with interracial marriage or refused to sign a similar certificate unless the person could prove they were Christian, he said.
Noting that about 96 percent of his organization's more than 50,000 members identify as Christian, Weinstein said it's not a question of "Christian bashing," but of pushing back against "fundamentalist Christian exceptionalism and domination" that he said seems to be gaining traction in the Air Force since President Donald Trump's election.
First Liberty described Bohannon as "a devout Christian" whom "adheres to the basic Christian belief that marriage is between one man and one woman."
Another advocacy group also spoke out Tuesday against the Air Force decision.
"Personal religious beliefs should never be used as an excuse to discriminate against a subordinate," said Ashley Broadway-Mack, president of the American Military Partner Association, the nation's largest organization of LGBT military spouses and families.
Bohannon's actions, Mack said, "sent a dangerous message to the entire command that he disapproves of every same-sex spouse that supports" their servicemember throughout a military career. "That's a severe failure of leadership."
Full article: https://www.stripes.com/news/air-force-colonel-had-religious-right-to-refuse-signing-same-sex-spouse-appreciation-letter-1.520156