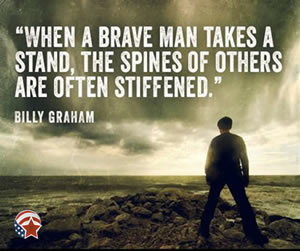 Dr. Billy Graham will "Lie in Honor in U.S. Capitol Rotunda" on Wednesday, February 28, and Thursday, March 1.
Former President Barack Obama found himself in hot water with his progressive constituency last week by a tweet honoring the late Reverend Billy Graham. Headline:
"Obama faces progressive backlash for tweet honoring the late Rev. Billy Graham," the Washington Times headlined.
Retweeting Obama, Christian Carter appeared to think that the former president was swimming against the tide: "Wasn't really feeling the love and guidance… He may have done well by many people, but the man also hurt countless individuals in the LGBT and other communities. We don't need to celebrate his death, the same as we don't need to celebrate his life."
Kaylara, a self-professed pagan, had some more inept sagacity to share on Obama's tweet: "Nope. He spent decades demonizing my religion and directing hatred at us as well as the LGBTQ community. He gave hope and guidance to horrible people on how to be more horrible and bilked poor people to enrich himself, and taught his kids that too."
The 'progressive backlash' aimed at former homosexual marriage and transgender bathroom champion President Barack Obama is that homosexuals transitioned from a 'libertarian' position in 2008 – framed as "Do us a favor, and let us live our lives in the privacy of our homes" – to a 'totalitarian' stance during Obama's American experiment, 2009-2017, resulting in "Christian bakers, Christian photographers, and Christian retreat centers will take part in our weddings or be bankrupted." Prayerfully, this was their last gasp.
If not for Divine Intervention in 2016, in the unwonted form of Donald J. Trump, fascism would well be on its way to a centurial run under the tutelage of a Hillary Clinton presidential victory. The dog whistle sent from her predicted electoral triumph promised that "Christians will sanction and ceremonialize same-sex weddings or spend time in jail." Boy, did we dodge a bullet.
Progressive liberals are relentless, and brazen. Bolstered by their 'Amen Corner' – the cultural mountains of influence of America: public education, higher learning, newsrooms, sports, the Courts, the Fortune 500, Big business, Hollywood, and medicine – these Leftist crusaders do still live to fight another day.
A telling example, Juan Williams authored an opinion piece in The Hill, "Evangelicals sell their souls for Trump." [February 19, 2018]
My friend Rev. Dr. Laurence White's response should be planted deep into the soil of the about 65M-80M Evangelical, and 40M Pro-Life Catholic, Christian constituency:
"Mr. Williams misses the point, although I was pleasantly surprised by his righteous indignation over sexual faithfulness between husband and wife in marriage. A political candidate is chosen for his position on the issues not his/her personal piety. Neither Donald nor Hillary are practicing Christians. Their professions of faith are superficial at best and consistently inconsistent with their lifestyles. To assert the moral superiority of Hillary over Donald is ridiculous and irrelevant. Moral indignation in politics is almost always selective – my guy is a saint and your guy is the devil. Williams is guilty of the same hypocrisy that he is attacking in his article. An election is not a canonization. The most consistent Christian in the oval office in modern times was Jimmy Carter. His presidency was a disaster. At the same time, despite his commitment to the Lord of Life who established the family, he supported abortion and the destruction of marriage. Donald Trump, on the other hand, has proven to be the most pro-life, pro-family president since Ronald Reagan. I hope and pray that more authentic Christians will run for office. But even then there will still be no perfect candidates. In the meantime our God has a remarkable way of using flawed instruments to accomplish His purpose."
Joseph Boot comes through with the gist of the issue: "First, culture is the public manifestation of the religious faith commitment of a people (be it Islamic, Christian, humanistic, etc…) so in fact there is no avoiding religious 'civilization' and 'culture' where any given worldview predominates. That is to say, there is no such thing as a neutral culture. 'Multiculturalism' is therefore just a contemporary term for polytheism (many gods). But no society can be governed by more than one ultimate source of authority without provoking civil conflict and social chaos. This is for the simple reason that Sharia law is not equal to English Common Law; nor is the Hindu caste system equal to the Western legal tradition of equality before the law. Each system has a different source of sovereignty and thereby a different God or 'god' behind them."[1]
America cannot function when both Secularism and Christianity "are perceived and treated as equally ultimate – the result of such irrationality can only be social suicide and judicial chaos."[2]
"Clearly someone's vision of law and justice is going to be legislated and someone's vision of 'love' endorsed by the state – an 'establishment orthodoxy' that opposes rival orders is inescapable."[3]
About 250 pastors are running for local office in 2018: city council, school board, parks and recreation, etc. Thank God that Gideons and Rahabs are now taking up a place in the front ranks of the battle for the Soul of America.
David Lane
American Renewal Project
[1-3] Joseph Boot, The Mission of God, A Manifesto Of Hope For Society.