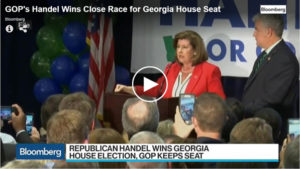 Democrat Jon Ossoff lost the House race in Georgia's 6th Congressional District despite receiving nearly three-quarters of $1 million from the Planned Parenthood Action Fund.
With $734,000 in campaign contributions, the abortion giant was the second-biggest spender on the Democratic side of the ledger — only trailing the Democratic Congressional Campaign Committee, which poured $4.9 million into the race.
Mr. Ossoff raised a historic $23 million to try to pick off the seat vacated by former Rep. Tom Price, who was appointed to head the Department of Health and Human Services by President Trump.
But he lost to pro-life Republican Karen Handel by nearly 4 points.
Click on link below for full story…