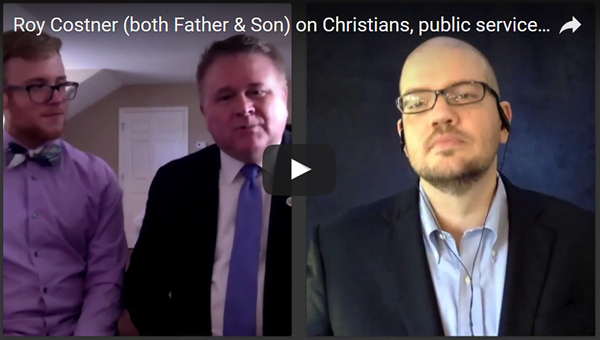 I recently had the joy of talking with Roy Costner (III and IV) — a father and son duo from Pickens County, South Carolina.
Roy (the son) made national headlines four years ago when he recited "The Lord's Prayer" (Matthew 6:9-13) in his Valedictorian speech at Liberty High School—after tearing up the speech that had been approved by Administrators. You may remember seeing Costner talk about it on news programs (i.e., Megyn Kelly).
Well, Roy (the father) found inspiration in his son's actions. After attending an American Renewal Project event hosted by former Louisiana Gov. Bobby Jindal, Costner sensed a calling to enter public service by running for a seat on the Pickens County Council. He won, and the Council now has made him the Chairman.
Did I mention that he is an Associate Pastor?
Here is the video of the interview, followed by a transcript (lightly edited for clarity). Also, I embedded a clip of the younger Costner's graduation speech into the video at the beginning.
Full story on Washington Times here: http://www.washingtontimes.com/news/2017/may/17/like-father-like-son-the-costners-on-christianity-/