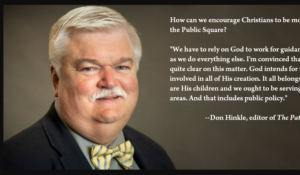 "God created all of reality. It all belongs to him. Government is one of only three institutions that he ordained, and there is no way that you can make me believe that God doesn't intend for his children to be actively engaged in every facet of reality, no matter what it is, including engaging with the government in public policy." – Don Hinkle
An interview with Don Hinkle, editor of the 'The Pathway' and Baptist public policy leader…
Don Hinkle is the founding editor the Missouri Baptist Convention newspaper, The Pathway — the fifth largest circulation paper in the Show Me state.
Don is also one of the great public policy leaders in the Southern Baptist Convention, combining a head for policy facts with a common sense approach to building networks. When I say "common sense," I mean that Don's strategy is simple. He makes friends with people, even when policy issues might seem like an easy excuse to stand aloof or throw potshots.
He could make a stone like him. Even a Democrat stone.
I sat down with Don for a video interview to hear about all the news coming out of Missouri in the past few months. And I asked him how Christians should be praying for President Trump.
A transcript of the dialogue is available here: http://www.washingtontimes.com/news/2017/apr/27/missourians-taking-jesus-into-the-public-square/