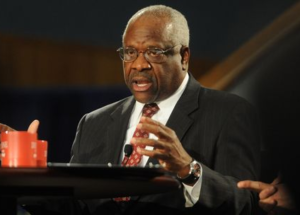 Supreme Court Justice Clarence Thomas lamented Wednesday that the nation's capital is "broken" and its institutions of government are being destroyed by an inability to debate issues with civility.
Speaking to a friendly audience at the Heritage Foundation as he celebrates his 25th anniversary on the high court, Thomas said even the Supreme Court must do more to earn the public trust.
"This city is broken in some ways," Thomas said. "At some point, we are going to have to recognize that we are destroying our institutions."
Rather than blame only the executive and legislative branches, Thomas pointed a finger at the court as well. "What have we done to gain their confidence?" he asked. "Perhaps we should ask ourselves what we have done to not earn it or to earn it."
The occasion gave Thomas, who speaks publicly less often than most of his colleagues on the court, an opportunity to address how it has changed in recent years, particularly since the death in February of his dear friend, Justice Antonin Scalia….
Full story here: http://www.usatoday.com/story/news/politics/2016/10/26/clarence-thomas-supreme-court/92799602/