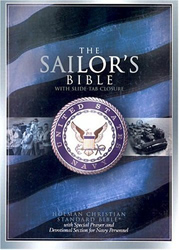 Put the Bibles back! A Navy spokesman confirms that Bibles will be returned to base lodges, and they've also launched an investigation to determine why God's Word was removed from guest rooms in the first place.
Navy Exchange, which runs the base lodges, sent a directive out in June ordering the Bibles removed, after the Freedom From Religion Foundation filed a complaint. The atheist group alleged the books were a violation of the U.S. Constitution and amounted "to a government endorsement of that religious text."
The Bibles had been donated to the Navy by Gideons International, a global ministry that provides copies of the Good Book to schools, military personnel and hotels.
Tim Wildmon, of the American Family Association, called the Navy's decision great news. He said thousands of their supporters contacted the Navy to protest the removal.
Full story here: http://www.foxnews.com/opinion/2014/08/15/navy-reverses-bible-ban/