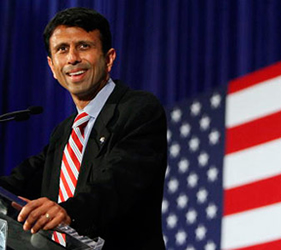 HOUSTON, Texas—Louisiana Governor Bobby Jindal (R) paid a visit to the Rio Grande Valley in Texas to witness first-hand, the ongoing invasion of illegal immigrants into Texas. During the Governor's visit to Texas he witnessed at least three incidents where people were crossing the border illegally. Gov. Jindal was accompanied by Colonel Mike Edmonson, Louisiana State Police Superintendent and Louisiana House Speaker Chuck Kleckley (R-Lake Charles).
During his visit, Jindal received a status of the border briefing from the Texas Department of Public Safety (DPS). Following the briefing, the group from Louisiana went on a tour of the river on the now famous Texas DPS gunboats and a DPS search helicopter.
"Earlier this week, I went to the U.S. Mexico border in Texas to get a firsthand look at the crisis on the ground there as a result of the Obama Administration's inaction to secure it," Jindal said in an email to Breitbart Texas. "Just in the few hours we were there, we saw groups of illegal immigrants try to cross the border and enter our nation in plain daylight. We also learned last week that more than 1,000 of these children were placed in Louisiana without any notification or information on them from the Obama administration."
During the briefing, Gov. Jindal learned much more is at stake than just people crossing the border seeking a better life. "Texas law enforcement officials also said they are seeing instances of drug trafficking, human trafficking and car chases at the border," the Governor stated.
Read full story: http://www.breitbart.com/Breitbart-Texas/2014/08/08/LA-Gov-Bobby-Jindal-to-Obama-Man-Up-and-Secure-the-Border