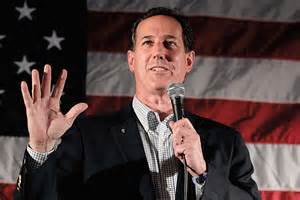 Rick Santorum challenged Iowa Republicans on Saturday to reject policies benefiting the wealthy and focus instead on measures that will attract working-class voters to the party.
Speaking as a special guest at the Republican Party of Iowa's state convention, Santorum said the party is missing out on a huge pool of like-minded but disillusioned voters by focusing too much on corporate and business interests.
"Workers of America know that President Obama's policies have let them down. They just have to know that we care," he told the delegates.
He added, "I know you care about working Americans because you are working Americans. You need to demand yours leaders to stop listening to the voices in the big cities who want to talk about capital gains and cuts to higher-income individuals' taxes."
Santorum was a U.S. senator from Pennsylvania and 2012 presidential candidate who won the Republican caucuses in Iowa.
Read the full story here: http://www.desmoinesregister.com/story/news/politics/elections/2014/06/14/rick-santorum-iowa-republican-convention/10522549/