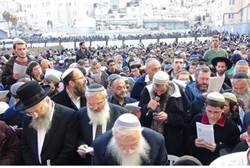 Thousands join prayers asking G-d to strengthen leaders and cancel Kerry plans to establish Arab capital in Jerusalem.
A massive gathering brought thousands together at the Kotel (Western Wall) Thursday night, in prayers beseeching G-d to "cancel the decrees" of US Secretary of State John Kerry, whose peace plans would create an Arab capital in Jerusalem.
The prayer rally, which was held under the title "prayer for the redemption of the people of Israel and their portion," was attended by Jewish Home coalition members including Housing and Construction Minister Uri Ariel, Deputy Religious Minister Rabbi Eli Ben-Dahan, MK Orit Struk and MK Moti Yogev.
Rabbi Chaim Druckman, head of the Bnei Akiva yeshivas, Chief Rabbi of Kiryat Arba Rabbi Dov Lior and Chief Rabbi of Tzfat Rabbi Shmuel Eliyahu led the prayers, asking G-d to "give strength, courage, truth and faith to our leaders. Give them fear and great awe of You, that they will fear greatly to harm our holy land."
Full story:  http://www.israelnationalnews.com/News/News.aspx/176912#.Uu0w7LTN18k