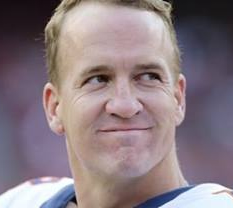 Any fan of Peyton Manning or the NFL generally knows that Manning is the consummate professional. He treats the fans, media personnel, teammates, and opponents with respect. Even after he retires from the NFL he may go on to becoming one of the most notable motivational sports speakers around. He works as hard—and probably harder—at his craft than any other player in the league. And he produces one fun, family-friendly commercial after another, showing his sense of humor and a humble assessment of his own importance. But what many fans of Manning and the NFL may not be aware of is Manning's Christian faith. In the excerpt below from Peyton's book Manning, which he co-wrote with his father Archie Manning in 2001, the record-setting quarterback gives a rare description of his faith and its importance to him. The description is a rare one, not because Peyton's faith is an insignificant part of his life, but because, as Peyton explains in the excerpt, he has intentionally chosen to speak more by his actions than by his words. Here is the excerpt:
Like my dad, I make it a point when I speak to groups to talk about priorities, and when it's schoolkids, I rank those priorities as: faith, family, and education, then football. For me generally it had always been the big four: faith, family, friends, and football. And I tell all of them that as important as football is to me, it can never be higher than fourth.My faith has been number one since I was thirteen years old and heard from the pulpit on a Sunday morning in New Orleans a simple question: "If you died today, are you one hundred percent sure you'd go to heaven?" Cooper was there and Eli [Peyton's two brothers] but it didn't hit them at the time the way it did me. It was a big church, and I felt very small, but my heart was pounding. The minister invited those who would like that assurance through Jesus Christ to raise their hands, and I did. Then he invited us to come forward, to take a stand, and my heart really started pounding. And from where we sat, it looked like a mile to the front.
But I got up and did it. And I committed my life to Christ, and that faith has been most important to me ever since. Some players get more vocal about it—the Reggie Whites, for example—and some point to Heaven after scoring a touchdown and praise God after games.
Full story here: http://youngcons.com/peyton-manning-opens-up-about-his-christian-faith/