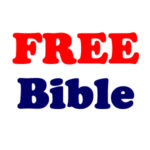 "Just over two years ago, I picked up a free bible, I had read it before but, this time, almost instantly, in a wave of emotions and realizations and revelations and a wide variety of indescribable sensations, I became a Christian. It happened. It was not deliberate and it was not a choice. It was what I thought never happened to anyone, it was what I had been so sure did not exist the way any of these nut jobs described it, but I'll be damned (pun intended) if it didn't happen to me. I got saved."
In the new era of "The Pope Francis Effect", and people of all walks coming out for the release of Pastor Saeed Abedini, a lot of previously shy Christians are feeling more confident stepping up and out, and inviting you to church.
Which can be really annoying when you have zero interest in going to church, maybe that's why you're reading this. You may even be reading this thinking some version of "Anyone who would believe in some all-powerful man, who watches every little thing that every single person does, telling us to love each other, while he lets whole nations suffer from starvation and genocide, is out of their mind." That's what I used to think.
But I don't anymore….
Read full article:  http://www.huffingtonpost.com/angela-jamene/what-people-are-really-th_b_4306949.html?utm_hp_ref=tw