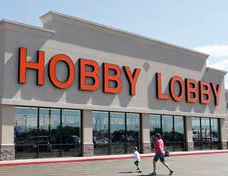 "CEO David Green and his family do not want to cover the cost of some types of contraceptives for their employees"
The federal government will challenge a preliminary injunction that Hobby Lobby Stores Inc. won in July that has allowed the company avoid millions of dollars in fines for refusing to cover the cost of some contraceptives for its employees.
Attorneys for the U.S. Department of Health and Human Services filed a notice in federal court in Oklahoma City on Tuesday stating that the government would appeal the ruling to the U.S. 10th Circuit Court of Appeals in Denver.
Kyle Duncan, general counsel for the nonprofit Becket Fund for Religious Liberty, which is representing Hobby Lobby in its court case, said he was puzzled by the appeal.
Full story at: http://newsok.com/article/3884302?slideout=1