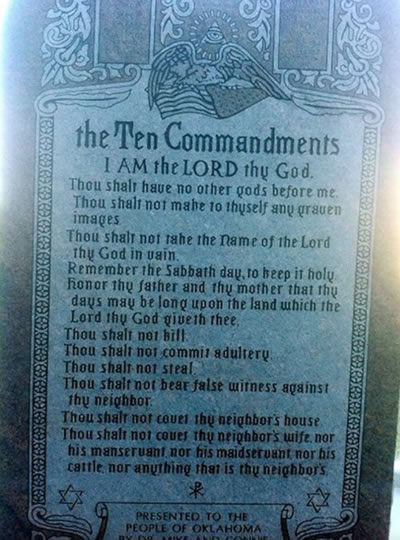 The monument was authorized by legislation in 2009 signed by former Gov. Brad Henry. Ritze was the House author of the measure, House Bill 1330.
OKLAHOMA CITY – The American Civil Liberties Union of Oklahoma on Monday filed suit seeking to have a monument displaying the Ten Commandments removed from the Capitol grounds.
"When the government literally puts one faith on a pedestal, it sends a strong message to Oklahomans of other faiths that they are less than equal," said Ryan Kiesel, ACLU of Oklahoma executive director.
Plaintiffs in the suit filed in Oklahoma County District Court are Bruce Prescott of Norman, James Huff of Oklahoma City, Donald Chabot of Oklahoma City, and Cheryl Franklin of Enid. The Oklahoma Capitol Preservation Commission is the defendant.
The monument was paid for by $10,000 donated by Rep. Mike Ritze, R-Broken Arrow, and his family, and $10,000 raised privately…
Read full story: http://www.tulsaworld.com/article.aspx/ACLU_sues_to_remove_Ten_Commandments_monument_from/20130820_11_A1_ULNShe386836