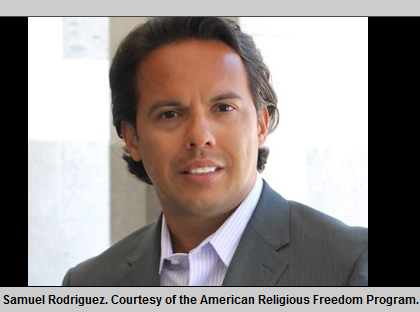 Washington D.C., Jun 3, 2013 / 05:28 pm (CNA/EWTN News).- Current threats to religious freedom in the United States demand that people of faith speak out in defense of their fundamental rights, said Rev. Samuel Rodriguez.
"Freedom of religion in America can best be characterized in the year 2013 as nothing other than an 'endangered species,'" cautioned Rodriguez in a May 30 speech.
"The voice of our faith stands to be silenced: it is time to rise up," the evangelical pastor exhorted the crowd.
Rodriguez, the president of the National Hispanic Christian Leadership Conference, spoke at the 2013 National Religious Freedom Conference in Washington, D.C. The event was sponsored by the Ethics and Public Policy Center's American Religious Freedom Program.
The multi-faith conference featured presentations and discussions on religious liberty by Catholic, evangelical Christian, mainline Protestant, Latter-day Saint, Eastern Orthodox, Jewish, Seventh-day Adventist, Muslim and Sikh speakers.
In his address, Rodriguez explained that the United States "emerged from the womb of religious liberty." The country has a strong history of religious pluralism and freedom, grounded in the idea that this freedom comes from God rather than earthly government, he explained.
Read full story: http://www.catholicnewsagency.com/news/religious-liberty-is-endangered-warns-hispanic-christian-leader/