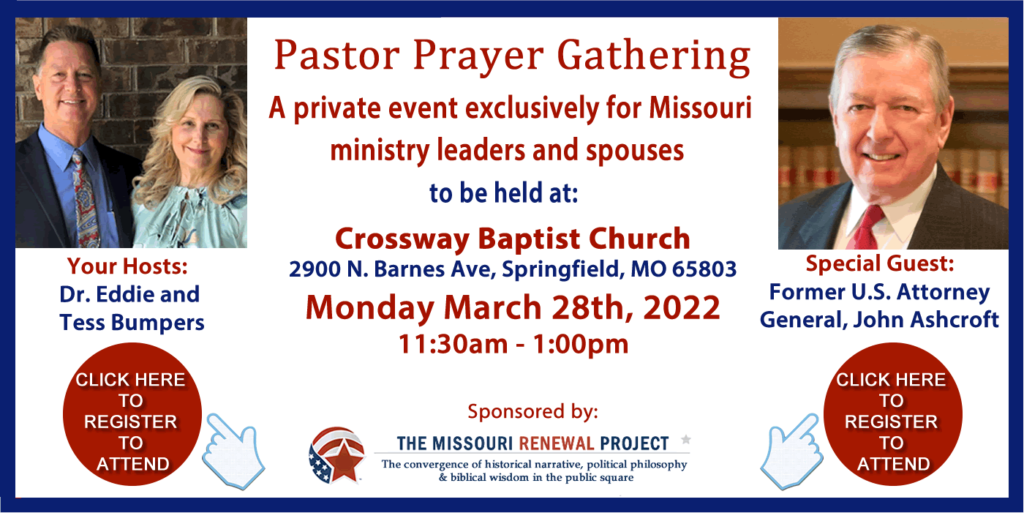 "There's nothing more rewarding or important than to be involved in God's work of redemption." John Ashcroft.

Dear Missouri Pastor, Ministry Leader and Spouse,
You are cordially invited to join with Missouri ministry leaders and their spouses at the upcoming Pastor Gathering in Springfield, MO on March 28, 2022, where our Keynote Speaker will be Former MO Governor, Senator and U.S. Attorney General, John Ashcroft
This complimentary luncheon is exclusively for pastors, ministry leaders and their spouses. Details on the event can be found below or you can simply register here No offering will be taken.
As pastors, ministry leaders and spouses, we must understand the times in which we live, and lead with Biblical insight to be salt and light in our cities, states, and nation.
If you pastor a church, or lead a ministry, you are cordially invited to attend.
Thousands of church leaders and their spouses have attended these complimentary events across our nation – and 99.9% of attendees agree that the meetings have been insightful, educational, refreshing and a real blessing.
Registration link: