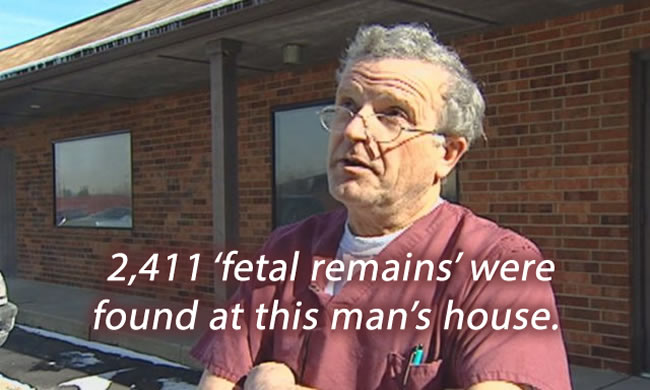 Ulrich "George" Klopfer [1940–2019] was an American osteopathic physician and abortion provider from Indiana and Illinois. Klopfer was born in 1940, in Dresden, Germany, and living there when the allies firebombed the city in 1945.
At the age of 11, Klopfer came with his family to the United States in 1952. Attending Bloomfield High School in Bloomfield Hills, Michigan, he was both smart and a record-breaking track athlete. A competitor in heart and soul, his goal was to represent the United States in the Olympics.
Klopfer attended the University of Michigan from 1960-1962 and graduated from Wayne State University in 1965 with a degree in organic chemistry. He graduated from the Chicago College of Osteopathic Medicine in 1971 and completed his internship and residency at Chicago Osteopathic Hospital in 1976. 
In 1978, Klopfer received a Physician's Temporary Permit to work at Women's Pavilion, an abortion facility in South Bend, Indiana. By November of that year he was performing abortions at Chicago Loop Mediclinic.
Klopfer first gained notoriety in November 1978 when the Chicago Sun-Times published its The Abortion Profiteers series documenting illicit, disturbing practices among Chicago-area abortion centers.
Klopfer's competitive streak, however, remained undisturbed. "A nurse reported to an undercover investigator that Dr. Ming Kow Hah and Klopfer would race each other to see who could complete the most abortions in a single day. 'When Hah is here, Klopfer really zips. Hah marks the patients on his leg, and if Klopfer sees that Hah's got a leg full, he goes like wildfire to catch up.' Another nurse said, 'Klopfer would be having a cup of coffee and be on his last sip when he'd jump up and say, 'I'd better get going or Hah will have the whole recovery room full.'"[Wikipedia]
In September 2019, two weeks after his death, Klopfer again made headlines when the Will County, Illinois, sheriff's office found 2,246 preserved fetal remains [read: murdered babies] at his home in containers. An additional 165 remains were found in the trunk of a car, totaling 2,411.
His family, going through his belongings, made the macabre discovery and reported it to the authorities.
God knew the name of each of these little ones.1 
The records that Klopfer broke were not of the kind that warrant praise. He violated and desecrated the Hippocratic oath. Pessimistic in character and outlook, living a bestial life below the dignity of reason or humanity, he seemed to have gone through his days without a mere thought of God or judgment.
After riding all of the rides at the Disneyland of his time, Solomon admitted that "Vanity of vanities, all is vanity."2 He had drifted from God. Although the brightest ever in government and economy, with multiple fairy tale love stories to tell, and the wisest according to the wisdom of the world, no man ever played the fool better and more thoroughly than Solomon did.3
God works in mysterious ways, it is said. He is there in the midst of the worst of times. His plans include tests, trials, tragedies, and troubles. For all of us, without exception. However, for those who have accepted His adoption through Christ, this magnificent God never forsakes.
In 1985, my wife Cindy and I helped a friend who had discovered she was pregnant; she was a pastor's daughter who had made a mistake. Having enough sense to recognize that two wrongs don't make a right, she quietly exited the singles scene for a year to have the baby and place it up for adoption. Last week, after 35 years, her little bundle-of-joy contacted her:
"I've had a wonderful a life, a happy life, filled with unforgettable memories and [loving parents and siblings]! Of course, there have been ups and downs, but I've always trusted God to work things through. … If you ever had any doubt about your decision, I hope reading this puts your heart and mind at peace!"
This mother, 35 years ago feeling trapped in a maze with no way out, put in motion the mighty powers of omnipotence. "In my distress," she cried, "I called upon the Lord and cried unto my God" [Psalm 18:4]. Though it was but the call of a weak solitary voice, unheard on earth, it reached Heaven, and the answer shook all creation: 'He heard my voice out of His temple. … Then the earth shook and trembled' [Psalm 18:6,7]. One saint in his extremity put in motion the mighty powers of Omnipotence: overwhelming is the contrast between cause and effect. Wonderful as the greatness, equally marvelous is the swiftness of the answer: 'Then the earth shook."'
The adoption agencies in Florida, such as Heart of Adoptions, Inc., help people form families through adoption. Such organizations are most likely dedicated to ensuring legal adoptions while also providing personalized services. These organizations also help women who are facing an unplanned pregnancy and require assistance in exploring their options.
At some point in the future, with 60 million babies murdered in their mother's womb, our children or grandchildren will be wanting to know, "Why didn't somebody, somewhere, do something?" Such adoption agencies might be helping those unborn children.
"Spirit come and change the atmosphere, Convict and open hearts here."  www.youtube.com/watch?v=belK8n0v4iQ
Thankfully, Gideons and Rahabs are beginning to stand.
David Lane
American Renewal Project
1. stream.org/decent-burial-and-names-for-the-thousands-of-hoarded-fetuses-in-mayor-petes-south-bend/
2. Ecclesiastes 1:2
3. J. Vernon McGee, www.studylight.org/commentaries/ttb/ecclesiastes.html
4. A.W. Pink's classic The Life of David.