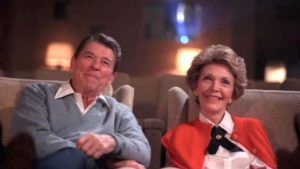 A newly discovered private letter from President Ronald Reagan to his dying father-in-law reveals Reagan's deeply held faith in God.
The four-page letter was discovered by The Washington Post's Karen Tumulty among Nancy Reagan's personal effects while conducting research for a biography on the former First Lady, and it's an insight into the president's personal faith.
Dr. Loyal Davis, a neurosurgeon, was dying and the president knew he was an atheist. Davis had even gone on record writing that didn't believe in Jesus Christ, his virgin birth, his resurrection, or a heaven or hell.
As Tumulty writes in her column, "The most powerful man in the world put everything else aside, took pen in hand and set out on an urgent mission — to rescue one soul."  … Read more here:
http://www1.cbn.com/cbnnews/us/2018/september/rare-discovery-how-president-reagan-revealed-his-faith-and-gave-comfort-in-private-letter-to-dying-father-in-law