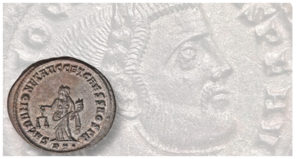 Nothing could be further from the truth than what comes across as a contest between Democrats and Republicans. In reality, two distinct and immutable religions – Christianity and Secularism – are vying for ideological supremacy in the public square. A better labeling would read: America is smack-dab in the middle of a 'cultural civil war'. Eventually, one worldview will triumph over the other.
This is by no means a new historical phenomenon, as Spurgeon informs us:
"A medal was struck by Diocletian, which still remains, bearing the inscription, 'The name of Christians being extinguished'. And in Spain, [a] monumental pillar [was] raised, on which [was] written: 'Diocletian Jovian Maximian Herculeus Caesares Augusti, for having adopted Galerius in the east, for having everywhere abolished the superstition of Christ, for having extended the worship of the gods.' As a modern writer has elegantly observed: 'We have here a monument raised by Paganism, over the grave of its vanquished foe. But in this 'the people imagined a vain thing'; so far from being deceased, Christianity was on the eve of its final and permanent triumph, and the stone guarded a sepulcher empty as the urn that Electra washed with her tears. Neither in Spain, nor elsewhere, can be pointed out the burial place of Christianity; it is not, for the living have no tomb.'" [1]
Modern Christendom is inclined to blame "humanists, pagans and Muslims, Marxists or other groups for the state of our culture and its idolatrous turn, but God calls His people to first take a long hard look at themselves in accounting for the decline of our social order." [2]
America's Founders understood the basic fact that virtue and liberty are inseparably linked, and that freedom "cannot long be preserved in the absence of virtue among the people and their representatives." [3]
Liberty depends upon virtue, and virtue depends upon Christianity.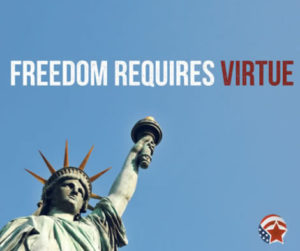 These truths have now been stripped from government-controlled education. Christians have surrendered the ministry of civil government to secularists, who are in rebellion against God. Secularism has brought to bear its own religious, ethical, and political doctrines in America.[4]
Under the influence of pietism the scope of spiritual engagement in America has been reduced to "his or her personal life, family life, and the affairs of the church as an ecclesiastical organization." [5] No wonder that Secularism managed to hijack the Founders' master plan.
Americans want God's help, but not His holiness. The nation reckons that it is useful to have God on its side. To honor God, to all appearances, we attend church on Christmas and Easter, say a prayer for the right parking spot, or ask the pastor to bless a marriage or a new home. But what we really want is a God who will help us to get our own way. We call for a God to help us getting things done, as long as we can keep our own views and live our own lives. [6]
As a result, America has reached a tipping point as God is beginning to assign His time-tested veterans to the front ranks. This battle for the Soul of America will unfold over the next thirty years, and God's plans are not transparent.
A.W. Pink describes the spirit and training of those whom God is moving to the frontlines. [7]
"It is this very loneliness of the saint that serves to make manifest the genuineness of his faith. There is nothing remarkable in one believing what all his associates believe, but to have faith when surrounded by skeptics, is something noteworthy. To stand alone, to be the solitary champion of a righteous cause when all others are federated unto evil, is a rare sight. Yet such was Rahab. There were none in Jericho with whom she could have fellowship, none there to encourage her heart and strengthen her hands by their godly counsel and example: all the more opportunity for her to prove the sufficiency of Divine grace! Scan slowly the list presented in Hebrews 11, and then recall the recorded circumstances of each. With whom did Abel, Enoch, Noah have spiritual communion? From what brethren did Joseph, Moses, Gideon receive any help along the way? Who were the ones who encouraged and emboldened Elijah, Daniel, Nehemiah? Then think it not strange that you are called to walk almost if not entirely alone, that you meet with scarcely any like-minded or any who are capable of giving you a lift along the road."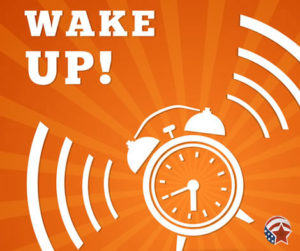 Secularism's destruction of America's once Biblically-based culture can be counteracted by:
• Reestablishing prayer in America's churches, led by the senior pastor.
• Men and Women of Issachar running for local office: city council, school board, parks and recreation, etc.
[Please note that filing deadlines in many parts of the country takes place in June. Pastors who don't feel called to run are requested to recruit a member of their congregation.]
Gideons and Rahabs are now moving toward the civil government frontline. "It will require courage, fortitude and unwavering biblical faithfulness to rouse the church again to her mission in a generation that has lost its way in idolatry, and where a many prophet and priest have said 'peace peace, when there is no peace' (Jeremiah 6:14)." [8]
David Lane
American Renewal Project
[1] The Treasury of David, Charles H. Spurgeon
[2-3] Joseph Boot, The Mission of God, A Manifesto Of Hope For Society
[4] Archie P. Jones, Foreward to The Christian Life and Character Of The Civil Institutions Of The United States, Benjamin F. Morris, 1864
[5] Boot, The Mission of God
[6] Keith Krell, 1 Samuel
[7] A.W. Pink, Gleanings From Joshua
[8] Boot, The Mission of God