Billy's Graham's mission in life was to bring millions around the globe closer to Christ, a goal many agree he faithfully accomplished.
Since his death on Feb. 21st, many in the evangelical community have been stirred to carry the torch of Graham's legacy.
"WITH BILLY GRAHAM GONE, THE CALL IS URGENT AND MY SPIRIT IS ON FIRE," popular Christian musician Carman Licciardello, known to fans simply as Carman, wrote in a post on Facebook.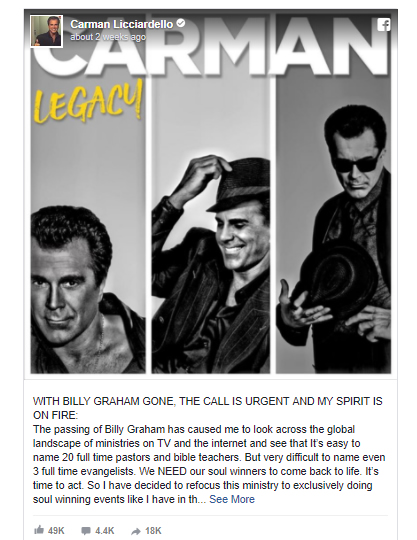 "The passing of Billy Graham has caused me to look across the global landscape of ministries on TV and the internet and see that it's easy to name 20 full time pastors and bible teachers. But very difficult to name even 3 full time evangelists," said Carman.  "We NEED our soul winners to come back to life."
Full story here: http://www1.cbn.com/cbnnews/us/2018/march/christian-singer-carman-issues-urgent-call-for-evangelism-after-passing-of-billy-graham