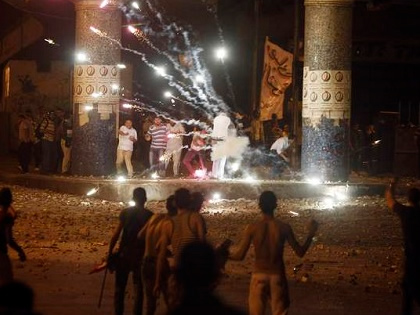 Islam's civil war moves to Egypt
By Spengler
The vicious crosswind ripping through Egyptian politics comes from the great Sunni-Shi'ite civil war now enveloping the Muslim world from the Hindu Kush to the Mediterranean.
It took just two days for the interim government installed last week by Egypt's military to announce that Saudi Arabia and other Gulf States would provide emergency financing for the bankrupt Egyptian state. Egypt may not yet have a prime minister, but it does not really need a prime minister. It has a finance minister, though, and it badly needs a finance minister, especially one with a Rolodex in Riyadh.
As the World Bulletin website reported July 6:
"The Finance Ministry has intensified its contacts [with Gulf states] to stand on the volume of financial aid announced," caretaker Finance Minister Fayyad Abdel Moneim told the Anadolu Agency in a phone interview Saturday. Abdel Moneim spoke of contacts with Saudi Arabia, the United Arab Emirates (UAE), and Kuwait for urgent aid … Defense Minister Abdel Fatah al-Sisi phoned Saudi Kind Abdullah bin Abdel Aziz and UAE President Sheikh Khalifa bin Zayed al-Nuhayyan yesterday on the latest developments in Egypt. King Abdullah was the first Arab and foreign leader to congratulate interim president Adly Mansour after his swearing-in ceremony. [1]
Meanwhile, Egypt's central bank governor, Hisham Ramez, was on a plane to Abu Dhabi July 7 "to drum up badly need financial support", the Financial Times reported. [2] The Saudis and the UAE had pledged, but not provided, US$8 billion in loans to Egypt, because the Saudi monarchy hates and fears the Muslim Brotherhood as its would-be grave-digger. With the brothers out of power, things might be different.
Full story:  http://www.atimes.com/atimes/Middle_East/MID-01-080713.html