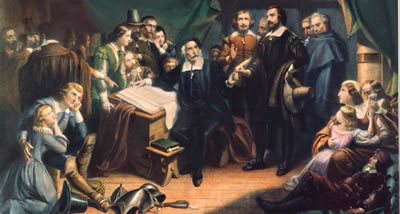 The Founders arrived at America's shores in the 17th century with an unshakeable faith, forged by persecution for "non-conformity, and the religious agitations and conflicts in Germany by Luther, in Geneva by Calvin, and in Scotland by Knox. The blood and persecution of martyrs became the seed of both the church and the state. They were trained in stormy times, in order to prepare them to elaborate and establish the fundamental principles of civil and religious liberty and of just systems of civil government."Thus, "Our forefathers in faith did not retreat from involvement in society and politics. They did not turn civil government, the making, enforcement, and adjudication of laws, over to Satan and those who serve him. They did not surrender the ministry of civil government to those who are in rebellion against God." (1)
The Founders would not be able to recognize these days the country they founded some 400 years ago. There has been a changing of the gods in the last 50 years. Multiculturalism, political correctness, and secular humanism now reign in the public square, ruling supreme over the cultural mountains of influence in America. Yet Christianity, a competing ideology, will increasingly threaten the status quo of the secular state as the Men and Women of Issachar begin moving into the public square. (
issachartraining.org
)
Secularism will come more and more under fire as Christians enter the public arena and begin questioning Secularism's self-imposed right to establish its sweeping, all-encompassing and shady agenda. Two examples:
Regarding public education, former Secretary of Education Bill Bennett asked two essential questions, "Who teaches the children, and what do we teach them?"
Regarding the rule of law, the United States Supreme Court made itself god and creator (in the 2015 Obergefell v. Hodges case) by decreeing homosexual marriage a constitutional right. By trespassing into the realm of God, the Justices brought on judgment upon the nation.
As Christians we are most in need of mercy and pardon for what we have allowed to happen to America.
Promoting recuperation:
Pastor Rob McCoy (Calvary Chapel Thousand Oaks) ran in 2014 for the open CA State Assembly District 44. Although being outspent in the general election by nearly $5M, he came within a whisker of winning. (Pastor Rob subsequently was elected in 2015 to the Thousand Oaks City Council and is now Mayor Pro Tem.)
Following Pastor Rob's defeat, the American Renewal Project emailed its 100,000 pastors, posing the question "Will you run?"
"We are asking 100,000 Evangelical pastors to begin praying to discern if God is calling you to run for political office in 2016.
"What types of political office do we have in mind? You name it: school board, county commissioner, city council, mayor, congress, etc. Every arena of local government needs the 'salt and light' of Christian witness and participation.
"A thousand pastors running in 2016 – and three to four hundred pastors winning their political races – would ignite a spiritual movement in the public arena of America not seen since America's Founding." 
issachartraining.org
Louisiana Governor Bobby Jindal called the first Issachar Training meeting in Baton Rouge on January 23, 2015. Former Governor Mike Huckabee, Senators Ted Cruz and James Lankford called additional Issachar Training events throughout the year. Some 2000 pastors participated in those events.
As momentum began to build, The New York Times ran a front-page story: Evangelicals Aim to Mobilize an Army for Republicans in 2016. (read story 
here
).
The real aim, however, was never to 'mobilize an army for Republicans', for no one believes that the Kingdom of God is going to arrive on Air Force One. (2) The battle for the Soul of America has nothing to do with Republicans vs. Democrats. The war is spiritual, with Secularism and Biblical Christianity as the two contenders.
Evangelicals did even better than media elites predicted in 2015. Paul Bedard of the Washington Examiner announced at midnight on Election Night: "Huge: ABC reporting largest turnout of evangelical vote in history." (read story 
here
).
Last week another shot was fired across the bow in North Carolina. The Charlotte Observer reported: "Challenger Mark Harris Stuns U.S. Rep. Pittenger of NC in GOP Primary Upset."(read story 
here
).
CBN's Jenna Browder wondered: "Pastor Unseats Sitting US Congressman: Could This Be a New Trend?"
WASHINGTON – In a stunning upset, Mark Harris defeated Rep. Robert Pittenger Tuesday night in North Carolina's 9th District primary.
Harris, a former pastor of a mega-church in Charlotte, is one of many candidates across the country with a ministerial background.
"A grassroots, precinct-level explosion is occurring across the country by evangelical and pro-life Catholic Christians," [David] Lane said. "Imagine in 2020 a thousand evangelical pastors running for local office: city council, school board, parks and recreation. If they averaged 500 volunteers per campaign, that would be a 500,000 grassroots, precinct-level explosion in the public square on November 3, 2020." (Read story 
here
).
An advice to the North Carolina Congressional District 9 pastors: Christians have to take their game to the next level if America is to survive. "Taking a trip to the Holy Land two weeks before the election, being away on a Mission Trip, or being on furlough is not being in a position to muster and marshal troops to the polls. Fundamentally, religious liberty will be won by organizing rather than by Sunday sermons." (
goo.gl/YDd4hx
)
Tuesday, November 6, 2018, will be D-Day for Pastor Mark Harris. All hands are needed on deck.
The good news is that Gideons and Rahabs are beginning to stand.
David Lane
American Renewal Project
(1) Benjamin F. Morris, The Christian Life and Character of the Civil Institutions of the United States, 1864
(2) Chuck Colson