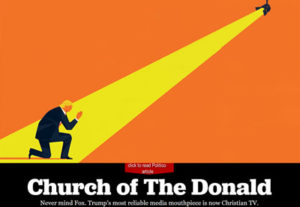 Never mind Fox. Trump's most reliable media mouthpiece is now Christian TV. [www.politico.com/magazine/story/2018/04/22/trump-christian-evangelical-conservatives-television-tbn-cbn-218008]
"When 'Huckabee' made its debut on TBN [Trinity Broadcasting Network] last fall, it immediately became the network's highest-rated show, with more than a million viewers for a typical episode. Unlike every other show the network has produced, it is overtly political and squarely focused on current events. It has a variety component, with musical guests and comedians, and Huckabee occasionally breaks out his own bass guitar on stage. But in its six months on the air, Huckabee has also interviewed Israeli Prime Minister Benjamin Netanyahu, Trump-defending Texas Attorney General Ken Paxton, anti-abortion activist Serrin Foster and former Senator Joe Lieberman. The very first guest on his very first show, last October, was President Trump.
"A generation ago – even a few years ago – this would have been unthinkable. Christian TV was largely the province of preachers, musicians, faith healers and a series of televangelism scandals. Politicians were leery of getting too close. To establishment evangelicals, not to mention the rest of America, Christian TV was hokey at best, and disreputable at worst.
"But in the past two years, largely out of view of the coastal media and the Washington establishment, a transformation has taken place. As Christian networks have become more comfortable with politics, the Trump administration has turned them into a new pipeline for its message."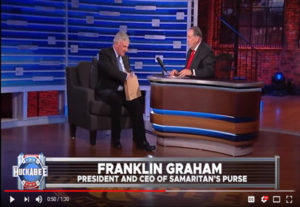 Imagine God creating a paradigm shift in America where CBN, TBN, and Daystar become the dominant mainstream in television programming. Newt Gingrich, Mike Huckabee, Shannon Bream, Cardinal Timothy Dolan, Ainsley Earhardt, Kellyanne Conway, Tucker Carlson, Todd Starnes, David Brody, Lauren Green, Megan Alexander, and other proficient leaders (empowered with a Christian worldview) become household names and opinion leaders; thus impacting public opinion.
As a result of the cultural shift, Evangelical and Pro-Life Catholic Christians will be then no longer a subculture in America, but the dominant 'mainstream culture'. Strategically placed in 'pole position', Christians will be ready to battle Secularism and its enforced divinization in its own image of state, public education, academia, media, sports, and Courts over the last seventy-five years.
On the steady diet of news and opinion from broadcasters with a Christian worldview, CNN, ABC, CBS and FOX will begin leaving the stage, as Secularism wanes. In a nutshell, reestablishment of the Founders' Judeo-Christian heritage and Biblically-based culture would be well underway.
Regardless, the spiritual problem in America cannot be answered or resolved until the problem itself is clearly identified. The head-on collision between Secularism and the Modern Church comes down to the clash between two systems of belief that represent rival religions and their insistence to structure society in terms of their faith.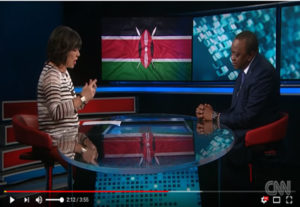 Last week CNN's Christiane Amanpour interviewed Kenyan President Uhuru Kenyatta. Kenya is 85% Christian and 10% Muslim, whereas its next-door neighbor, Somalia, is 99% Muslim and 1% Christian. In Somalia, paramilitary groups engage in widespread looting of Christian graves, Islamic jihadists behead Christians who refuse to convert to Islam (who are there to help Somali orphans!), and Somalia's Ministry of Justice and Religious Affairs prohibits Christian festivities in the country. All this while Kenya takes in hundreds of thousands of Somali refugees fleeing Islamic jihad.
With that as background, guess what secularist Christiane Amanpour decided to focus on in her interview with President Kenyatta.
Amanpour: "One of the major issues – and it's a holdover from sort of Colonial Victorian [era] – is the issue of sexual preference in many of the African countries. In Kenya to be gay, the LGBT community is illegal. They just want to have equal rights, the same privacy and equality as all other Kenyans do. Is that something you aspire to for your country?"
Haplessly, Christina Amanpour was punching above her weight. It is worth watching the four minutes that it took President Kenyatta to lambaste her 'theology'. [www.youtube.com/watch?v=lwTgU-RZLHQ&t=30s]
Let's not beat about the bush. As American citizens homosexuals are ensured equal rights. But are they owed as well the 'special rights' they now demand? Homosexuals once pressed for 'libertarian acceptance' of their lifestyle. 'Allow us to live our lives in the privacy of our homes' was the LGBT mantra. Having gained 'libertarian acceptance' over the last half-century, Obama-era homosexual groups demanded 'totalitarian acceptance': 'Christian bakers, photographers, and retreat centers will take part in same-sex weddings or be bankrupted.' Predictably, fascism would raise its ugly head fully with a media-predicted Hillary Clinton presidency: "You'll participate or spend time in prison."
In its celebration of abortion, same-sex intercourse and marriage, gun control, euthanasia, big government, transgender bathrooms, and coercive redistribution of wealth, the Left bespeaks paganism. Since law, religion, and state cannot be separated, all law is an element of morality, and all morality an element of religion. It is the question whose morality holds sway.
For Evangelical and Pro-Life Catholic Christians, November 6, 2018, is going to be a big test. It will decide whose values are going to wield the sceptre in America.
God be thanked, Gideons and Rahabs are beginning to come forward for election to local office: city council, school board, parks and recreation, etc. It is the birth of a movement in bringing Biblical values to the public square over the next thirty years. We'll witness how 'God swings big doors on little hinges'.
David Lane
American Renewal Project