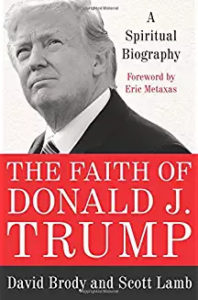 The book has a straightforward title: "The Faith of Donald J. Trump," just published by Broadside Books, the conservative imprint of Harper Collins Publishers. Authors David Brody and Scott Lamb also are straightforward and unapologetic about their intent to chronicle the spiritual voyage of the 45th president, which appears to be both authentic and distinctive — somewhat like Mr. Trump himself, who was candid about the presidency.
"I would say the office is so powerful that you need God even more," Mr. Trump told the authors — volunteering that he remains "a Sunday church person" and providing them with a 1959 black-and-white photo of his Confirmation class at a Presbyterian church in Queens, New York.
"President Trump is a believer. I say that with great conviction. I think his faith in God
and his faith in the American people are the foundation of his life and service," advised Vice President Mike Pence.
At 400 pages, this is a substantial book, with 30 chapters…. Read more:
Full Story: https://www.washingtontimes.com/news/2018/feb/15/inside-the-beltway-the-faith-of-donald-j-trump-cha/ 
Available at Amazon: https://www.amazon.com/Faith-Donald-Trump-Spiritual-Biogr
aphy/dp/0062749587/ref=sr_1_1?ie=UTF8&qid=1520111962&sr=8-1&keywords=faith+of+donald+j+trump