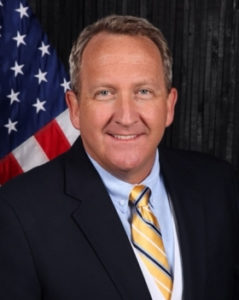 Thank you for running for elected office Pastor McCoy! May your campaign become the prototype for thousands of Pastors across our nation.
Born in Coronado, CA to a Navy captain, a high school All-American swimmer, Rob McCoy, 50, is a man's man. He's also the senior pastor of Calvary Chapel, a congregation of approximately 700 attenders, including myself, in Thousand Oaks, California.
Pastor Rob announced in December 2013 that he was running for the open California Assembly seat in District 44. Since then, has had 500 volunteers walking precincts and making phone calls.
One retired policeman has knocked on 10,000 doors. A business owner has made 12,000 phone calls. And a new United States citizen from England has organized 150 "coffees" throughout the district and created an inspiring video that you can watch here. https://www.youtube.com/watch?v=e47S6Ogrq2s
Rob's campaign could become a prototype for Evangelical pastors nationwide seeking to engage the culture and save America. He may spark a grassroots movement of Christian pastors leading the charge at the precinct level and encouraging their parishioners to exercise their right to vote to restore America to her Judeo-Christian heritage.
Image a thousand Evangelical pastors in 2016 pursuing the call to run for city council, school board, county commissioner, mayor, or congress in 18 states. Now, imagine that each of those candidates has 500 faithful volunteers like Rob does. That's a grassroots movement at the precinct level of 500,000 people laboring for the reestablishment of a Christian culture in America.
Click image to watch video
The battle for the soul of America is not a new one. Since the founding of our nation, each succeeding generation has had to fight for their liberty, freedom, and values. In a republic like ours, someone's values are going to reign supreme. That's why it's so important that we exercise our freedom to vote-a fact Phil Robertson, founder of Duck Commander and one of the stars of the reality television show Duck Dynasty, emphasizes here.
Will we passively sit back and allow hucksters of hope and change to set the course for our country? In the eighteenth century, Edmund Burke pointed to those who sought to fundamentally change a nation: "An ignorant man, who is not fool enough to meddle with his clock, is however sufficiently confident to think he can safely take to pieces, and put together at his pleasure, a moral machine of another guise, importance, and complexity, composed of far other wheels, and springs, and balances, and counteracting and co-operating powers. Men little think how immorally they act in rashly meddling with what they do not understand. Their delusive good intention is no sort of excuse for their presumption."
Or will we stand up and defend our Judeo-Christian values at the polls?
Rob McCoy, thank you for standing and defending.