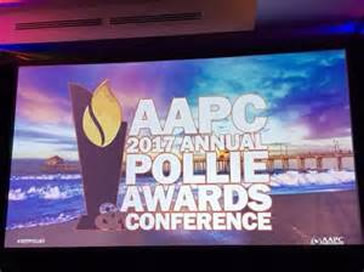 On the heels of record turnout by Christian evangelical voters in the 2016 national election, the American Renewal Project has been awarded two 2017 "Pollie" awards by the American Association of Political Consultants, in a ceremony called the "Oscars of political advertising."  FOR IMMEDIATE RELEASE
American Renewal Project Wins Two 'Pollie' Awards for Its Evangelical Voter Turnout Effort
In 2016, national exit poll analysis revealed that evangelicals made up 20% of the electorate in Florida; 34% in Iowa; 36% in Missouri; 37% in North Carolina; and, 33% in Ohio – a turnout surge far beyond that predicted for the turbulent election.
Founded in 2005, the American Renewal Project (ARP) is a national organization dedicated to helping Christian people engage in community life.
National political consulting firms, Murphy Nasica & Associates (MNA) and Victory Enterprises, who had joined forces to help the American Renewal Project reach their goal of setting records for evangelical turnout, each earned a "Pollie."
The Murphy Nasica & Associates team of Matthew Brownfield and Dr. Ross Hunt won their award for "Best GOTV Field Program" for their nationwide grassroots effort. Victory Enterprises and their team of Dave Hageman and Steve Michael won the award for "GOTV Direct Mail" for a Missouri state voter guide.
In 2016, ARP moved with unprecedented speed to produce a full mobilization effort that incorporated every tool and tactic available in modern advertising to achieve its objective. Operating across six states (Florida, North Carolina, Virginia, Iowa, Missouri, and Ohio), in just 65 days, the 130-person effort contacted 1.3 million households and conducted 461,398 live conversations.
The effort was unique in its rigorous scientific approach to decision-making. Tactics were tested before, during and after with multiple control groups. Esquire magazine has dubbed the Pollies "…the Oscars of political advertising."
They are the most prized accolade in the political industry. Every entry is judged by a jury of professional peers and competes in nationwide categories.
MURPHYNASICA.COM
FOR IMMEDIATE RELEASE
CONTACT: Craig Murphy
DATE: March 20, 2017
PHONE: 817-845-0111
EMAIL: Craig@MurphyNasica.com