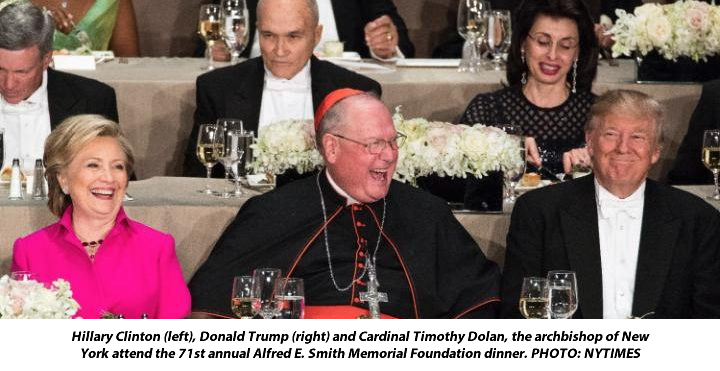 A lot of people want to take credit for the Trump revolution, or to ascribe credit when it's not deserved. While I have no personal axe to hack against Jared Kushner, President-elect Donald Trump's son-in-law, that November 22, 2016 Forbes Magazine "Exclusive Interview: How Jared Kushner Won Trump The White House" was more startling than Hillary Clinton's election night drunken temper tantrum.  While Mr. Kushner certainly played a part in data-mining voting targets from his perch at 666 Fifth Avenue, the hard data is in on who pushed those electronic buttons to give Mr. Trump an historic electoral college win…the Catholics. Pass Forbes the Holy smelling salts and splash some Holy water all over Project Alamo, the plan to suppress the vote among Hillary Clinton's biggest fan base threat to Trump: young women, African-Americans and millennials. If this voter suppression scheme worked so well, why is the media claiming Hillary won by 3 million votes?  Why does it matter?  Isn't winning enough? No.  Because if the new administration thinks that data-mining, manipulating and massaging the attitudes of faceless masses are responsible, they mortally wound the spirit of a miraculous revolution by real people, with real names and hearts.  Was the battle merely one of patriots versus globalists? Or was the real war between good and evil?
My colleague and friend of many years, George Marlin, is one of the most renowned conservatives in the United States. Mr. Marlin is also the expert on the Catholic vote. We have often wondered if Mitt Romney had used the proprietary data prepared exclusively for Romney by George & Co., and presented to Mr. Romney in 2012, would Romney have won against Obama? The Catholics (and evangelicals) who sat home during four voting cycles, voted for Trump on November 8. What drove them to the polls? Data mining, or quiet professionals, determined patriots, and armies of the faithful that decided it was time to slay the leviathan? With very rare exceptions, media pundits went at it again-marginalizing the forgotten voter. Only this time, it was a bit more turbid.
While giving a speech at a Trump victory celebration in South Carolina, I asked a very well informed audience, "How did we win the election?" The first answer was from a gentleman who referred to the Forbes article and the genius of Jared Kushner. Jokingly, I told him the man with the hook needed to come and yank him out of the crowd. I asked again:  "How did we win the election?" The thoughtful elderly man sitting to the right of where I stood gently answered:  "Prayer." Ah. The Answer.
Trump's win WAS a miracle.
Here is what happened to scale the wall of impossibility…
During an early March 2015 three-day Republican National Committee Finance meeting in Boca Raton, the RNC gave a momentous presentation on the tools necessary to win the office that all knew would be, at best, difficult to claim. At this point, the candidate was unknown, although Jeb Bush appeared to be the anointed one, with Marco Rubio stealing his thunder during
Rubio's stunning keynote dinner address. Most of the then prospective candidates made an appearance that weekend. Bush was boring, and eyes rolled when Donald Trump took to the podium. The RNC's game plan was to fully implement its superior digital technology first utilized during the 2014 midterms, but to tap into a risky voter pool: the low propensity voter. Who was that voter? It was an eclectic bunch of millions who had tuned out and were needed to expand the depleted Republican voter base. RNC Chairman, Reince Priebus, hired former South Carolina GOP Chair, Chad Connelly, to become the Executive Director of the RNC's first-time ever position, Faith Outreach. Why Mr. Connelly? Because all that know him are awed by his remarkable skills to communicate with evangelicals and build long-term relationships. Prong One to victory was put into place.
Next. On June 9, 2016, the RNC and presumptive nominee Donald Trump held their first official meeting of the newly created legal entity called Trump Victory.  Trump Victory was the joint fundraising effort between the RNC and Donald Trump. I was asked by the RNC Chairman to become a member of Trump Victory's Finance Committee and had a seat at this critical first strategy session.  Having been on Marco Rubio's campaign team, I was not on board that early Trump train, nor knew what to expect on this prophetic day in Trump Tower. After the meeting, we attended a luncheon for donors and fundraisers where Trump's election strategy was revealed. The one that caught everyone's attention was the Rustbelt Strategy. We received a guided tour through the playbook. Win West Virginia. Carry the invasion into Ohio, Pennsylvania, Michigan, Wisconsin.  Meanwhile, pick up FL and North Carolina and have a back-up plan to rack up enough small electoral vote states to make up for rust-belt-state loss. He was planning to simultaneously scale Everest and K-2. Trump had won the nomination without a ground-game operation, without staff necessary to implement a presidential campaign. The vitriol of the NeverTrumpers created a fundraising nightmare. There were scant big donors and Trump was not particularly receptive to big donor money. With barely a cohesive campaign, with funds that looked like a jar of jelly beans compared to Hillary Clinton's war chest and Clinton Foundation illegal campaign contributions, The Donald put on his hiking boots and went for the climb–big events, big crowds and No One had a clue if those in attendance were voters, registered, thinking about it or looking for a cheap night of entertainment. Was it a methodical illusion? Despite ammunition aimed at him from within and without, Trump captured what has always been uniquely Trump: possibilities. He is electric. Unplugged. Sometimes unglued. But his appeal to the heartlands, whether in FL or in Michigan, was undeniable. The RNC was not prepared to put funds into "maybe" states. Turn Wisconsin and Michigan red? As a Trump fundraiser, I did not know how it was going to be possible to create effective ground operations in "maybe" states, let alone Florida and Ohio. But Trump's Rustbelt Strategy was Prong Two of the path to victory.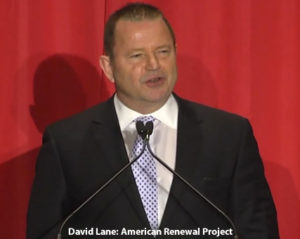 David Lane's American Renewal Project put prong Three of the Trifecta into place. Never heard of him? Neither had I, until a close friend told me to take a look. Mr. Lane's nonprofit Austin, Texas entity, The Vineyard, had been building relationships with evangelical pastors for several years. His message? To defeat the liberal secularists that had imposed their values on a once Biblically-based culture and nation and were on a three-quarter century winning streak. "We evangelicals and pro-life Catholic Christians must engage the culture," Lane told me. "If America is to be saved, we must become the men and women of Issachar who 'know the times and know what to do' (1 Chronicles 12:32). There has to be a spiritual resurrection of America, or we're finished." So David Lane enlisted armies of pastors and their congregations to take back their culture and Christianity. And they did.
In his post-election article, "Rustbelt Catholics Put Trump Over The Top," George Marlin detailed the Catholic vote in Ohio, Pennsylvania, Michigan and Wisconsin. "Catholics determined a presidential election," Marlin wrote. Hillary Clinton ignored the Catholic vote, just as Mitt Romney did. Mr. Marlin's article is available on The Streetcorner Conservative blog. The numbers do not lie. And neither does the bottom line of how we won the election: liberals ignored and ceded the Christian vote. Three unrelated prongs merged to overcome unimaginable odds.  I would like to see more in the press acknowledge this, and attempt to refute it. They will not and they cannot. The real champions of this election did what they did for the Glory of God, not for recognition. President Trump needs to make Faith Outreach an essential part of his administration. What was begun by Chad Connelly and David Lane in the creation of lasting relationships with faith-based leaders in small towns across the United States is central to righting a ship drowning under the arrogance of the self-appointed masters of our Divinely blessed nation. Donald J. Trump needs to give thanks where thanks are truly due…to our Divine King. "No one that I know believes that the Kingdom of God is going to arrive on Air Force One," said David Lane. "Or that politicians are going to save America; or that Wall Street is going to save America."
How did we win the election?
Tender Mercy that cannot be taken for granted.
God Bless. Merry Christmas. And always with Love.
By Karen A. Iacovelli
Karen A. Iacovelli is Member of Board at The Philadelphia Trust Company. A twenty-five year veteran of the media industry, Ms. Iacovelli has served as a newspaper journalist, magazine publisher, and television/radio commentator.