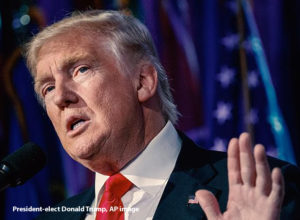 Abraham Lincoln had his "Team of Rivals". John F. Kennedy had his "Wise Men". While history hasn't yet given a nickname for President-elect Donald Trump's cabinet and his executive team, it's starting to look like he's surrounding himself with men and women of faith.
Here are some of his selections, as of November 30th:
Vice President: Governor Mike Pence
The newly-elected Vice President grew up as an altar boy and made a "commitment to Christ" in college, and has described himself as a "Christian, a conservative, and a Republican" in that order. As Indiana's Governor, he signed a bill to protect religious freedom in his state and shortly before Election Day, he made a special appeal to Christians, telling them his "faith always comes first."
Cabinet-Level Selections:
Attorney General: Senator Jeff Sessions
The multi-term Alabama Senator was one of the first supporters of Trump's campaign, and soon thereafter became an adviser. Now, he's the President-elect's pick for Attorney General. The choice is not without controversy; Sessions has had to dodge accusations of racism stemming from his work as a prosecutor in the Justice Department.
As a child, Sessions was active in Boy Scouts activities and the Camden Methodist Church. He later went to a Methodist-affiliated college, Huntingdon, and he's served as a leader and Sunday school teacher at his family's church, Ashland Place United Methodist Church in Mobile.
Secretary of the Treasury: Steven Mnuchin
The man who served as the finance chairman for Trump's campaign is now being tapped to head the department made cool by Alexander Hamilton: Treasury. Mnuchin had worked as a partner at Goldman Sachs for 17 years before launching his own hedge fund, "Dune Capital Management." While there, he's invested in several blockbuster films, including "Avatar," "Mad Max: Fury Road," and the critically-panned yet commercially-successful "Suicide Squad."
Full story here: http://www1.cbn.com/cbnnews/us/2016/november/trumps-cabinet-a-motley-collection-of-believers