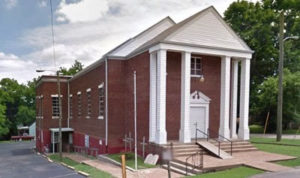 NASHVILLE (BP) — Dwayne Lewis and members of New Season Baptist Church walked from their temporary meeting place at an elementary school to a vacant church building across the street where the 150 men, women and children laid hands on the building and prayed.
Bordeaux Baptist Church in Nashville held its final service Aug. 7, deeding the building to New Season Church that has operated for six years as a mobile mission.
Photo from Google
"All of us we went over there and we believed God for that building, but that wasn't the building," Lewis told Baptist Press, saying that God "was just testing our faith to see if we'd just step out and do that."
"God told me you laid hands on the wrong building, but you had the right faith."
The right building for the Southern Baptist congregation Lewis leads is the 76-year-old Bordeaux Baptist Church in a mostly African American urban community in Nashville where the once-thriving congregation had persevered yet dwindled to about five families unable to cover operating costs.
New Season Baptist Church plans to move into its new home Oct. 1, receiving with joy and thanksgiving the property that Bordeaux Baptist Church is deeding to the congregation that has had three meeting places since its 2009 launch at Grace Nursing Home as a mission of Joelton First Baptist Church in Joelton, Tenn.
New Season Baptist Church pastor Dwayne Lewis (right) joins hands with Bordeaux Baptist Church member Bobby Hatfield at an Aug. 7 joint celebratory service at Bordeaux Baptist Church, which is giving its building to New Season.
Submitted photo
"Even now, I have not landed," Lewis told Baptist Press two weeks after his congregation received the gift. "In other words they talk about being on cloud nine. I'm like on cloud 29 right now and I've not landed. It blessed my heart so much." …
Full story here: http://www.bpnews.net/47404/on-cloud-29-says-pastor-given-free-church