The former House Speaker brings experience and still terrifies Democrats
Even nearly 20 years since he departed Congress, Newt Gingrich is still the most feared Republican in America. Why? Because the role of Republican leadership in the three coequal branches of government has largely collapsed since he left.
Newt paints in bold colors, like Ronald Reagan did when he said, "Our people look for a cause to believe in. Is it a third party we need, or is it a new and revitalized second party, raising a banner of no pale pastels, but bold colors which make it unmistakably clear where we stand on all of the issues troubling the people?"
The current Republican leadership is an unimpressive lot. They seem to be placeholders waiting for principled leaders like the former Speaker of the House to emerge. President Obama's hijacking of the constitutional power of the legislative branch-without cost or pain-would never have happened under a Gingrich-led Congress. The president's unconstitutional executive orders and general overreach have put America in a constitutional crisis.
Republicans across the spectrum agree that Newt would be Donald Trump's best asset on the campaign trail this fall and a seasoned point-man in a Trump administration. Selecting Gingrich as Veep would send a message worldwide-that Trump is bringing "adults" to the table with the intention to make America great again.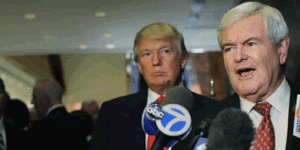 The former Speaker, once the most innovative and formidable politicians in America, is a Churchillian figure. That kind of selection by Mr. Trump would, first, telegraph the caliber of people that he plans to bring to his administration; second, lend insight into the sort of selection he plans to make for Supreme Court Justices and third, show the type that Trump would elevate in military leadership. It would say: Under a Trump/Gingrich administration, American exceptionalism would again return to the forefront of world leadership.
And yes, Newt is not perfect. But, as former Texas Governor Rick Perry said of Newt and perfection in his concession speech for the Republican presidential nomination in 2012, "who among us is?" Perry is right; he echoes John 8:7: "The one sinless among you, let him cast the first stone."
In March of 2007 Newt admitted to adultery in an interview with Dr. James Dobson, during a Focus on the Family broadcast. "I've gotten on my knees and sought God's forgiveness," he said. Afterward Dr. Jerry Falwell, Sr., wrote:
He [Newt] has admitted his moral shortcomings to me, as well, in private conversations. And he has also told me that he has, in recent years, come to grips with his personal failures and sought God's forgiveness.
I have been very impressed with the spiritual maturity of this man and am convinced that he has been honest and forthright in clarifying his past failings and his quest, as a Christian, for God's forgiveness.

As a pastor with more than a half-century of experience of working with fallible people, I have ministered to a few men who have experienced moral collapse. I have usually been able to tell which of these men was genuinely seeking forgiveness for their actions. My sense tells me that Mr. Gingrich is such a man. He is today happily married to wife Callista, and committed to be the husband he should be.

I well remember the challenge we evangelicals faced in 1980 when our candidate, Ronald Reagan, was the first presidential candidate who had gone through a divorce. We wisely made allowance for God's forgiveness and America was the beneficiary of this historic champion.

Consequently, I decided earlier this week to invite Mr. Gingrich to come to Liberty University on May 19 as our graduation speaker. This will be his second commencement speech at Liberty, previously addressing graduates in 1991.

In recent years, Mr. Gingrich has dedicated much of his time to calling America back to our Christian heritage.

His most recent book, Rediscovering God in America, is a brilliant essay that highlights the unique and obvious Christian influence that inspired our nation's dawning.The book takes readers on a tour of Washington, D.C., inspecting many documents, memorials, friezes and writings of presidents and national leaders who clearly put allegiance to Almighty God at the forefront of the nation's development.

There has been a war on God in our nation in recent years and the effort to rekindle our national commitment to God is urgently needed.
Since one of the premier responsibilities of the VP is to campaign for the party and to take down the opponent, Newt's political skill and historical insight would be a nightmare for Hillary Clinton.
Newt's response to a question about Bill Clinton at the Aspen Ideas Festival this weekend was just the opening salvo if Gingrich is selected as Donald Trump's VP candidate in the next week or so: "Trying to get Bill Clinton to be responsible is comparable to teaching [my dog] Pride how to read,"Gingrich said. "It's impossible, it's just who he is. He's one of the most charming people I've ever known, he's astonishingly brilliant, and there's a screw loose."
I'm pulling for Newt.
original article: http://time.com/4393671/donald-trump-newt-gingrich/
—-
TIME Ideas hosts the world's leading voices, providing commentary on events in news, society, and culture. We welcome outside contributions. Opinions expressed do not necessarily reflect the views of TIME editors.