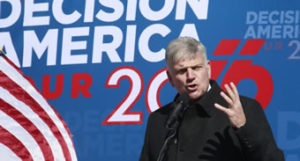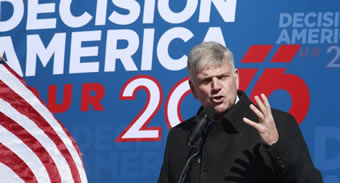 The Reverend Franklin Graham urged his fellow Christians to vote in November, even if they have to choose between two "heathen" candidates. Son of the Reverend Billy Graham and president and CEO of the Billy Graham Evangelistic Association, Graham has taken on much of his father's mantle in the evangelical community.
In an interview with CBN in Denver this week, Graham stressed the importance of voting for all Christians.
I don't care who wins and who's out there, you have to vote. And I'm not going to tell people who to vote for, I'm not going to do that — let God tell you who to vote for. You may have to hold your nose, you may have to decide which is the least heathen of the two heathen."
Graham did not specify which candidates he considered to be "heathens," but it seems likely he was referring to the current front runners in the Republican and Democratic Parties. Republican Donald Trump claims to be a Christian, but he is well-known for boasting of sleeping with many women, for attempting to take an aged widow's house to build a limousine parking lot, and for repeating on television that he does not remember asking God for forgiveness.
Democrat front runner Hillary Clinton is not much better…
Read full story here: https://pjmedia.com/trending/2016/03/18/franklin-graham-vote-for-the-least-heathen-candidate/