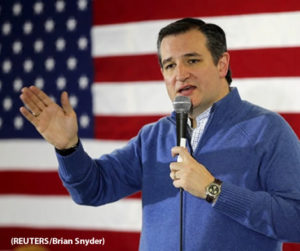 CEDAR RAPIDS, Iowa — Sen. Ted Cruz told a group of pastors here that they can help blunt the national momentum of Donald Trump if they work to help Cruz win next week's Iowa caucuses, and that his campaign is the only one that can beat the real estate mogul.
Cruz, who is battling Trump for first place just a week from this state's caucuses, told a ballroom full of pastors at a lunch here that the race between the two men is an "absolute dead heat."
"If Donald wins Iowa he right now has a substantial lead in New Hampshire. If he went on to win New Hampshire as well there's a very good chance he could be unstoppable and be our nominee. And the next seven days in Iowa will determine whether or not that happens," Cruz said at a policy briefing luncheon put on by the American Renewal Project, an organization of conservative pastors that has held events with numerous candidates in Iowa….
Full story here: https://www.washingtonpost.com/news/post-politics/wp/2016/01/25/cruz-im-the-only-candidate-who-can-beat-trump/