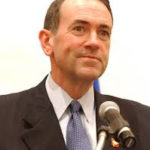 Former Arkansas Gov. Mike Huckabee is taking a step closer to seeking the GOP presidential nomination for 2016 by becoming the headline speaker at a meeting of conservative pastors.
Huckabee appears to be laying the groundwork for another White House run by attending the Pastors and Pews event in Little Rock, Ark, sponsored by the American Renewal Project headed by influential evangelical Christian David Lane.
"This is the first time I have seen Mike Huckabee this aggressive (about a political run) in five years," Lane told South Carolina's The State. "From where I sit, it looks like he's running."
Huckabee, who sought the Republican nomination for the presidency in 2008, told Newsmax earlier this year that he is "not ruling out" another presidential bid.