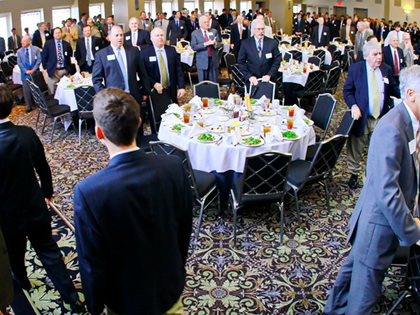 Political activist David Lane thinks too many of Iowa's conservative evangelicals are sitting quietly in their pews instead of rallying behind Christian conservative candidates.
"Our country's going to hell because pastors won't lead," he told The Des Moines Register in an interview. "The goal is to march an army."
Lane, the charismatic founder of the American Renewal Project, has been orchestrating conclaves of conservative ministers in politically influential Iowa for six years now, mostly avoiding reporters and publicity to quietly work behind the scenes to mobilize evangelicals.
The 58-year-old Californian has gathered an audience of 800 Iowa evangelicals in downtown Des Moines for a two-day, all-expenses-paid forum, featuring two top-name GOP politicians — U.S. Sens. Rand Paul and Ted Cruz, both born-again Christians. Underwriters are covering the $250,000 expense for a free hotel overnight and three free meals for the pastors and their spouses, he said.
Although Lane won't get up on stage, he intends to convey this message: There are 65 million to 80 million evangelical Christians in the nation, and half aren't registered to vote. And of those who are registered, half don't vote, he will tell the pastors.
"There's going to be a major push in Iowa to get evangelicals registered and practicing in the civil government arena," he said. "You'll elect every senator, every congressman, every state representative, every governor, every mayor, every city council member — you'll own the whole deal if our constituency will engage."
And that includes the next president, Lane believes.
His event, called the Iowa Renewal Project, began Thursday evening with a reception, dinner and praise songs at the Marriott hotel…
Read full story here:  http://www.desmoinesregister.com/apps/pbcs.dll/article?AID=2013307190039&nclick_check=1